MCCSA Membership Information
MCCSA Membership Information & Printable Waiting List Application
The number of members is limited by the amount of land licensed to the MCCSA by MCOG for hunting. The membership now stands at approximately 160. Members of the MCCSA are allowed hunting privileges within the license lands during MCOG approved seasons. To retain these privileges, a member must participate in Association activities such as attendance at monthly meetings, forestry management, wildlife enhancement and other conservation projects and community services, throughout the year.
When vacancies occur, new members are taken into the Association by seniority from a waiting list of applicants.
Unfortunately, the Merrill Creek Reservoir lands are not large enough to accommodate all of the hunters who would like to participate, and as a result there is a very long waiting list. A category of temporary membership, known as "Associate Member," is used to provide some hunting for those on the waiting list. Associate Membership is currently offered for the fall bow, permit bow, and muzzle loader deer hunting seasons of a particular year. These seasons are offered on a rotating basis throughout the total waiting list so that the opportunities for hunting are equitably distributed throughout the list.
The MCCSA is an active group with strong interest in hunting, conservation and environmental management. It provides an important service as the coordinating link between area hunters and use of the Merrill Creek Reservoir lands for hunting. Under its guidance, safety and good hunting practices are taught and observed in the field for the benefit of all. Equally important is its participation in education and community service activities.
Appropriate information on Bylaws and Operating Rules that govern Members and Associate Members, Association procedures, obligations for retaining membership and participation requirements are provided when a person is enrolled as a Member or temporary Associate Member.
If you have any further questions, you may call 917-337-8307 .
If you have read the above information and would like your name added to the MCCSA Waiting List, please click on the  form below, print the application, fill in the requested information, and email the form to mcrhuntclub@gmail.com.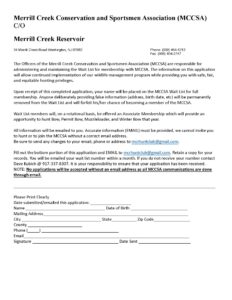 The annual deadline for membership renewals is May 31. Dues are $70.00. Please complete the membership form and mail with payment to the address below.
For Member updates, please click the link below, complete form and send to the address below.
Submit dues to:
Mr. David Kubich
205 Park Ave.
Phillipsburg, NJ 08865