Fishing Rules
All NJ fishing regulations apply, including obtaining the appropriate valid fishing licenses, stamps, and abiding by all catch and release seasonal dates and regulations for certain fish species. Please note that Largemouth and Smallmouth Bass catch and release dates run from April to June. See https://dep.nj.gov/njfw/ for more information.

A barrier-free fishing dock is located off Fox Farm Road near the Inlet/Outlet Tower. Physically challenged anglers are given preference in the use of that dock.

Ice fishing, bow fishing, spearfishing and magnet fishing are PROHIBITED at MCR.

All group outings and/or fishing tournament participants MUST preregister and will NOT be given preference over other boaters. NOTE: MCR will only allow ONE tournament per day. It is the group/tournament coordinator's responsibility to communicate all MCR and state fishing and boating rules and regulations to all participants. Any violations of these rules and regulations by a group/tournament participant may result in a permanent access denial to the premises for the fishing club holding the tournament.

Shore fishing allowed in designated areas. Click on the map below for more details on designated areas for shore fishing.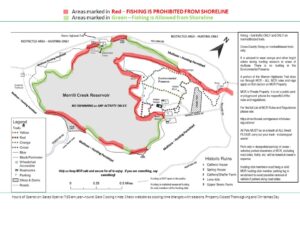 Property Operation Hours
Gates open year-round at 7:00 am
Gate closing time: Day after Labor Day to September 30:   6:30 pm
NOTE: boat ramp closure times are different than property closing times-check white-board at ramp for ramp closing times.